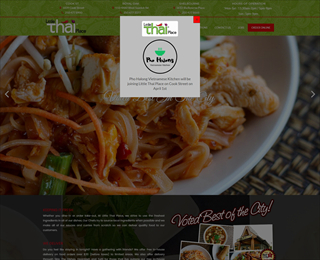 As our society becomes more connected, it has become more common to experience cuisines of various cultures far more quickly. The culinary landscape has been evolving for decades, and now the average restaurant-goer has a far more diverse palate, desiring different cuisines with distinctly different flavors and styles.
That is one of the primary reasons that cuisines like Thai and Vietnamese have become more prevalent across both Canada and the United States. The other noteworthy reason is that people travel from those regions, emigrating and settling in the United States and Canada, establishing roots and sharing their local cuisine with their new community. That is how Canada and the United States become melting pots, a litany of cuisines readily available with just a short stroll down the block or a click online.
Thai restaurants, in particular, have become very popular in recent years. Traditionally, Chinese food has been the most prevalent Asian cuisine available throughout North America, but as citizens of Thailand and Vietnam have emigrated and settled in North America, their cuisines have taken a foothold and become more popular.
In the Victoria, BC, Canada area, in particular, Asian cuisine and culture are a huge part of the community. Immigrants from generations past established roots in the area and the generations that followed have taken to sharing those cultures through the cuisines made popular in those countries.
For that reason, it is no surprise that British Columbia, in general, has a high Asian population, with a wide array of Thai, Vietnamese, and Chinese food establishments throughout the province.
One Thai restaurant, in particular, stands out in Victoria as one of the best around, winning new fans over and retaining loyal customers with each dish served.
What is the best Thai restaurant in Victoria, BC?
Little Thai Place has earned quality reviews across several platforms, most notably earning 4 out of 5 stars on Trip Advisor. Most reviewers claimed it the best food in the Victoria area, citing the fast, affordable, and tasty options available.
Little Thai Palace has a comprehensive menu of Thai food that is conveniently separated based on category: lunch specials, appetizers & salads, soup, rice, noodles, curries, and vegetables with helpful denotations to the level of spice involved in the particular dish so that you are not taken unawares by an extra spicy dish.
With three locations – Cook Street, Royal Oak, and Shelbourne – ordering from Little Thai Place are convenient and easy. We offer eat-in, pick-up, or delivery options from all three locations to provide you with the preferred setting of your choice best suited to enjoy the delicious items on our menu.
Little Thai Palace has also introduced a comprehensive Pho Halong menu at the Royal Oak location. Pho Halong is a delicious dish that has become a popular item on the food scene and one that is in popular demand these days. We offer Pho Halong that is delicious, filling, and piping hot with a variety of flavors that will leave your taste buds dancing.
You will have a great experience when visiting one of the Little Thai Palace locations and partaking from our vast and delicious menu.
Best Thai Restaurant Victoria
Related Post
Finding a Thai restaurant in Victoria does not have to be a big ordeal. Sure, a Google search can provide you with endless options when it comes to Thai restaurants. However, none of the options that you will find online can even begin to compare to the quality of food that is served at Little Thai Place.
Our team at Little Thai Place is dedicated to providing mouthwatering meals that will leave you satisfied. Whether you are going on a business dinner or a lunch date, Little Thai Place has exactly what you need to satisfy your hunger. Between the hours of five and nine in the evening, Little Thai Place offers free delivery to Victoria on orders that exceed more than twenty dollars.
Extensive Menu of Popular Thai Dishes
At Little Thai Place, we provide an extensive menu of the best Thai dishes. We strive to provide the best possible prices on our food. We ask that customers let us know if they have any food allergies. Our cooking is not just delicious, but it is also healthy. Thai food is known best for its potential health benefits.
Thai food often contains a lot of garlic. Garlic is known to reduce high blood pressure and lower the chances of getting heart disease. Thai food typically is a mix of fruits, vegetables, seafood, and meat. Most of the foods that are recommended for daily consumption are provided in one meal at Little Thai Place.
Thai Food Promotes a Healthy Digestive Tract
Thai food contains numerous vitamins and minerals. It can promote a healthy digestive tract. Not only is Thai food delicious, but it is also very eye catching. Your plate will be so beautiful it will almost be a shame to eat it. For quality Thai food that won't break the bank, visit Little Thai Place.
Our kitchen staff is Thai food experts who are dedicated to creating scrumptious and healthy foods that will leave you craving more. Visit one of our three different locations to find out what all the buzz is about.
Expand your Palate Horizons with Thai Food
More cultures are exploring the foods and traditions of other cultures. If you have never tried Thai food before, let Little Thai Place be your first experience. To try new foods, you must have a diverse palate that wants to indulge in the rich tastes of Thai foods.
On Trip Advisor, Little Thai Place ranked high among restaurants in the Victoria area. Customers can choose to dine in or carry out their meals from Little Thai Place. We also offer delivery to certain areas. Don't delay in partaking in the vast menu that is available at Little Thai Place.
Your taste buds will thank you for taking the time to check out the exquisite menu that Little Thai Place has to offer. Our locations are conveniently located and tastefully decorated. Little Thai Place is the perfect place for a first date, hanging out with friends, or meeting up with family members.
Anthony Bourdain once revealed that taking a culinary-inspired trip to Vietnam had a profound effect on his perceptions about his life and passion for food. The renowned former cook shared a 'bun cha' meal with the former United States President, Barrack Obama. Anthony had an awe-inspiring travel documentary that showcased his amazement at the unique gastronomic processes of Vietnamese food. He had a particular interest in Banh beo, bun bo, com hen, Banh bot loc and Banh beo; the major food combinations of a Vietnamese recipe. Anthony Bourdain's remarks create a ripple effect on Vietnamese food fanatics and other chefs who honor his tertiary education at The Culinary Institute of America and decorated television career. 
Vietnamese cooking goes against the grain of what we might consider exquisite. The oddness does not stop it from attracting and maintaining a considerable following within and without the country's borders. The food has a heavy influence of noodle soups and stir-fries from the Chinese culture. Vietnamese cuisine is an assortment of French, Chinese, and Southeast Asia culinary skills. The last addition was when Vietnam adopted its love for broth soup during the invasion of the French colonizers in the 18th century. Tale has it that the cooks used leftover bones from slaughterhouses to make aromatic broth soups. Over the years, they have used the land's palm sugar and coconut to sweeten the broths.
What is there to love about Vietnamese food?
The indigenous culture took a lot of pride in the uniqueness of their dishes. Instead of reacting to a sneezing person with 'Bless You' they conjured the response, 'Com Muoi' which means rice and salt. Rice and salt are the vocal equivalence of wishing one wellbeing and health. So what is it that draws outsiders like Anthony and other travelers to love the cuisine?
The fermented fish sauce is a favorite dish used in almost every single meal of the day, such as salads, marinades, and broth.
The country has a far-reaching love for herbs and spices. The best ingredients in Vietnam's active street markets are a whiff and curried inclusion in kitchens. Some of these include ginger, mint, turmeric, cilantro, basil, lime leaf, garlic, green onions, dill, and lemongrass.
Vietnamese cooks do not consider unripe fruits just unripe. They will chop up green pawpaw to make a salad's foundation or a sour addition to fish soup, chili, shrimp and garlic additives.
Ripe fruits make a sumptuous pudding for after meals. 
Vietnamese food is not a delicacy only found within the constraints of its nationality. One Best Thai Victoria spot is Pho Halong, which is a fast upcoming Vietnamese kitchen working together with the Little Thai Kitchen. Best Thai Victoria dishes from Pho Halong and Little Thai Place are available at the restaurant's location in West Saanich Road in Victoria.
Our meals have a home cooked zest that will give your taste buds the indigenous Vietnamese cuisine experience.  The specially prepared fresh noodles, rib eye steak, and other flavors have a free delivery option for customers within Victoria and Saanich. You can pick your order at Shelbourne Plaza or talk to us to deliver freshly cooked food between five and nine o'clock in the evening.
Little Thai Place
250 477 8900
1839 Cook Street, Victoria, BC
View Larger Map
We welcome your comments!