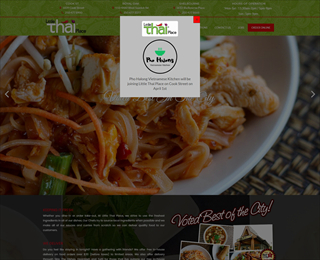 Our restaurant, the Little Thai Place, is the go-to place for people looking to have a taste of Thailand without having to leave town. Our kitchen offers a variety of the best Thai food in Victoria at affordable prices. Unlike other Thai restaurants, our place offers an authentic Thai dining experience that will keep you coming back for more.
What are the Best Thai Specialties to Order?
If you are still unfamiliar with Thai specialties but wanted to try it out, here are some of the best Thai dishes most popular among foreigners that you may want to order:
Tom Yum Goong – a soup of spicy and sour base with prawns, mushroom, cilantro, and Thai herbs.
Kang Gang Kiew Waan Gai – green curry with chicken, eggplant, red peppers, and basil best paired with steamed rice.
Pad Thai Goong – stir-fried Thai rice noodles with prawns, carrot, bean sprout, green onion, tofu, and egg.
Tom Ka Gai - a soup of spicy and sour base with chicken, cilantro, mushroom, coconut milk, and Thai herbs.
Satay Gai – grilled chicken, served with peanut sauce
Gai Ped Med Mamuang – stir-fried chicken with carrots, cashew nuts, green onion, and green and red peppers.
Gang Dang – made with either pork, chicken, beef, or prawns, red curry paste, coconut milk, bamboo shoots, eggplant, red pepper, and basil.
Kao Pad Goong – special Thai fried rice mixed with prawns, broccoli, lettuce, carrot, cauliflower, green onions, tomato, green pepper, and egg.
Why is Thai Food Popular Worldwide?
Without a doubt, Thai food is one of the most in-demand cuisines anywhere in the world, primarily because of its unique and powerful flavors. If you are wondering if Thai food is worth trying out, you may be convinced by the following reasons for its immense popularity:
Harmony of flavors. Thai cuisine has mastered the art of combining multiple flavors – sweet, sour, salty, bitter, and spicy – to create a delicious harmony that makes every dish come alive. Thai food has something to offer to everyone. From soups, salads, satisfying meat dishes, to filling desserts, Thai food is bursting with flavors.
Nutritional value. If health is your primary standard for choosing which food to eat, then Thai dishes will not disappoint considering that it is acknowledged as one of the healthiest cuisines in the world. For one, the Thai method of cooking ensures that the essential nutrients contained by the ingredients are highly-preserved. Thai dishes are also made using fresh and healthy ingredients (mostly vegetables), some of which even include ingredients with medicinal value that can help relieve ailments like gastrointestinal issues.
Numerous options. Whether you are a fan of vegetables, meat, chicken, or seafood, there are Thai dishes that will completely satiate your hunger for good food. Even if you have not tried any of their specialties yet, you will surely find a dish or two that will easily become your favorite.
Satisfy your craving for authentic Thai dishes by dining with us here at the Little Thai Place. Our loyal clients vouch that we have the best Thai Food in Victoria, so why don't you check out and taste for yourself. Book a table with us or call for fast delivery today.
Best Thai Food Victoria
Related Post
Many Thai food Victoria enthusiasts like the rich flavor and aroma of Thai dishes. A typical dish at the Little Thai Place includes multiple seasonings such as sweet, sour, spicy and salty. Our guests consider the food we serve satisfying because it is filling and excites the taste buds. We serve meat and fish Thai dishes, soup, vegetables, and noodles.
What is Thai food like?
Thai food consists of wholesome dishes that are served in small bits like snacks. You can easily pick up a quick but delicious dish at Little Thai Place for a few dollars. Some of the popular Thai dishes in our restaurant include salads, soups, chicken or beef satay, and spiced raw vegetables.
Presentation
An important aspect of Thai food is presentation, which is one of the most exquisite in the world. Vegetables are elegantly curved using a paring knife and ice water. In addition, food is often served in western cutlery consisting of beautifully decorated plates, forks, and large spoons.
Instead of a fork and a knife, Thai food is eaten with a spoon and a fork with the spoon held on the right hand. However, some people like to eat Thai food with chopsticks, which we usually provide on request.
Each dish is served in a separate plate and diners do not combine different foods on one plate. Instead, they sample one dish at a time often with fragrant rice on the side. In addition, soup is served in bowls.
Why is Thai food often spicy?
Thai food is known for being spicy because it contains multiple ingredients that give it a spicy taste. Some of the common spices found in Thai food include chili peppers, garlic, peppercorn, and ginger. Thai food may contain a wide range of peppers including sweet pepper, Karen chili, bird's eye chili, or spur chili.
Health benefits
Although Thai food is rich in flavor because of the spices it contains including ginger, garlic, and pepper, these ingredients also have health benefits. Pepper has many health benefits including helping to lower bad cholesterol, clearing congestion in the respiratory system and sinuses, lowering blood pressure, and reducing inflammation.
Ginger helps to treat morning sickness, nausea, diarrhea, and motion sickness. It is also an excellent antioxidant and aids digestion. At Little Thai Place, we often dice or crush ginger before adding it to entrees. We also slice it and use it to prepare one of our most popular beverages; aromatic herbal tea.
Garlic promotes cardiac health and often helps to minimize the symptoms of hypertension and high cholesterol. It also promotes gut and immune health. Some of our dishes contain crushed or sliced garlic. Peppercorn helps to relieve intestinal gas and excessive sweating and urination. It also stimulates the stomach to release hydrochloric acid, which aids digestion.
At Little Thai Place, we do not just prepare tasty Thai dishes; our dishes also have a whole range of health benefits. Come dine at the Little Thai Place today.
Little Thai Place
250 477 8900
1839 Cook Street, Victoria, BC
View Larger Map
We welcome your comments!